Our blade design slices through tough soils with ease while allowing you to work closer to desirable plants. Weed Ox heavy duty hoes excel working in hard pan, rocks and heavy soils.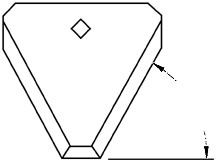 Designed to work, built to last!

Weed Ox Division

Manning SC

At Black River Tools, we design all our products

using the same philosophy. . .

IT'S GOT TO WORK AND IT'S GOT TO LAST!




How Do They Work?

     Weed Ox hoes are designed to cut into the ground easily, severing the roots and stems of unwanted weeds. Hoes with rectangular blades cut poorly or not at all, other designs have a cutting edge that is too steep, which may pierce the ground but not cut roots and stems. Weed Ox blades are designed with an efficient cutting angle and sharp, three-sided cutting edges that get the job done.